During the summer of 2015, I had the chance to join my Mistress in Her new home, in Germany, near Düsseldorf. I was delighted to be able to discover where my Goddess lives, to help Her move in and order the furniture, Her stuffs as She likes.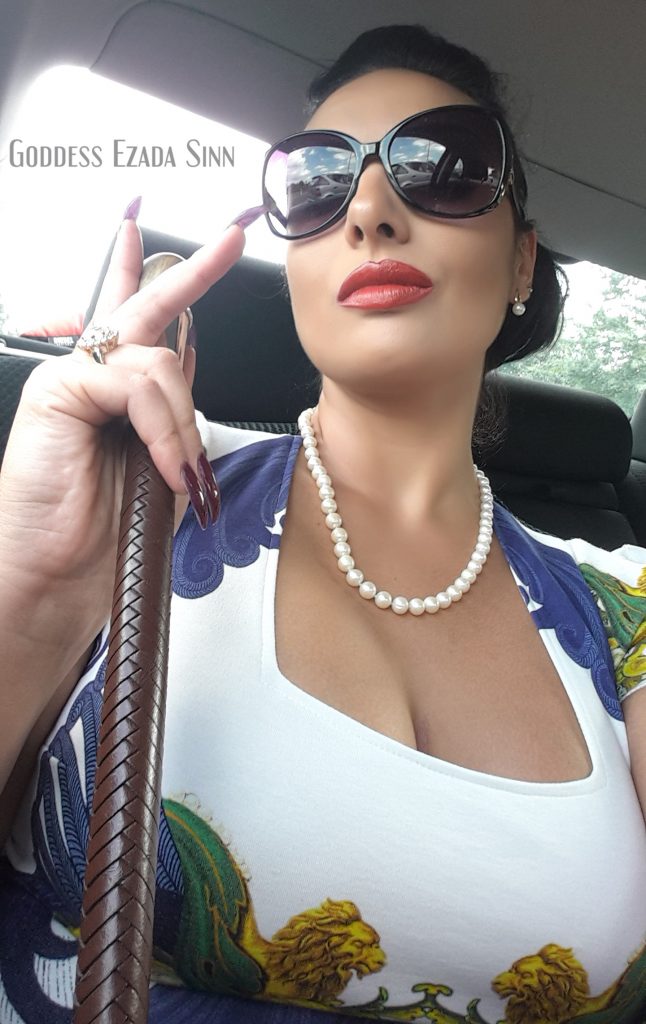 After two days of work, my Mistress was kind enough to introduce me to Her new city of Düsseldorf. We went into town with Her slave-husband.
It was a beautiful summer day with a light breeze. My Mistress was lovely, Her Roberto Cavalli dress embellishing beautifully the unique shapes of Her body, the curve of Her legs ending with the wearing of shoes Jimmy Choo splattering the cobbled streets of the city, Her perfect "chignon" reinforcing the brilliance of Her hair and Her designer sunglasses gave the appearance of a businesswoman reigning over the Rhineland. She took care to carry a riding-crop, which She carefully let out of Her expensive leather bag. Her charm was unattainable, Her beauty unalterable and Her power unrivaled. She emitted a force like a hurricane that carried everything in its path – She walked on water, on men, on the world.
For my part, as usual, I wore a metal chain closed by a voluminous padlock prominently on my polo. No doubt for the inhabitants of this city that I was under the right-of-way, under the yoke of this Sublime, intriguing Femme Fatale.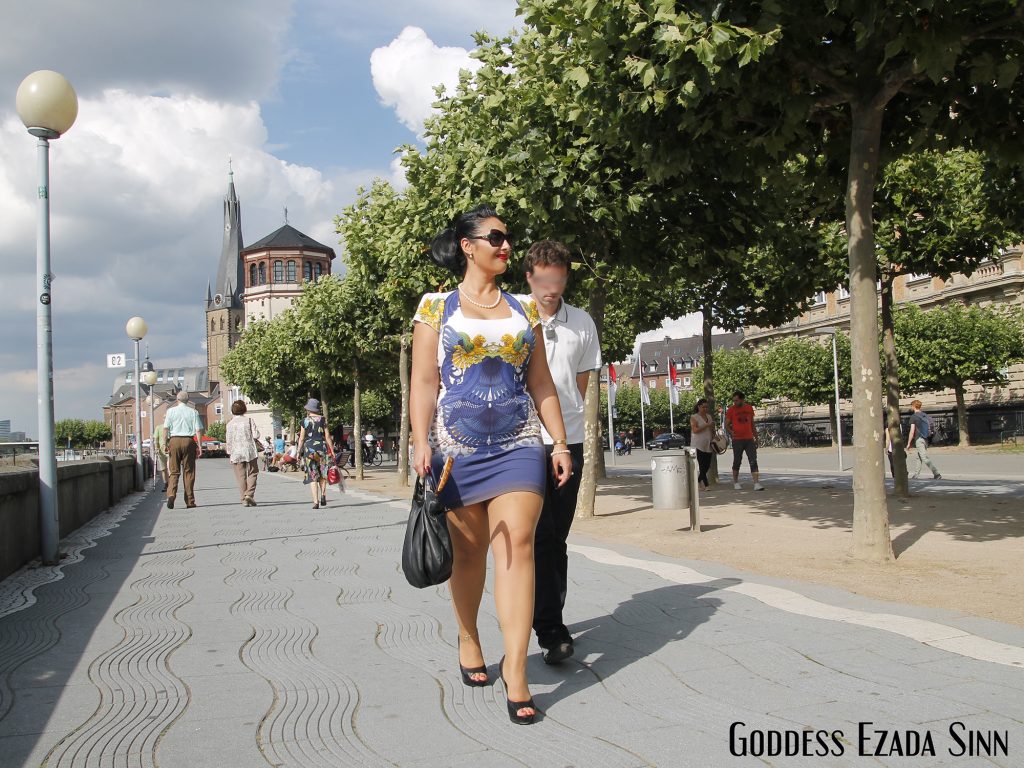 I was so proud and honored that I could accompany my Mistress in public, to walk slightly back, in the shadow of my Queen.

We went first to a department store where Mistress wanted to choose new pairs of pumps. Just before entering, She turned to me and with Her faint snap of her fingers, She pointed at the floor:
" purcelus, I want you to wait here for me, in front of the entrance, on Your knees, hands back till I finish My shopping "
I was surprised but without any hesitation, I kneel down on the floor and put my head down.
" be proud, slave, put your head down and show your devotion & happiness"
I was a little bit ashamed but also happy to be put at my right place in public. I am an Ezada's slave. What's better in this world? What's more intense than to kneel in front of The Diva of Düsseldorf, the Queen of the Female Supremacy.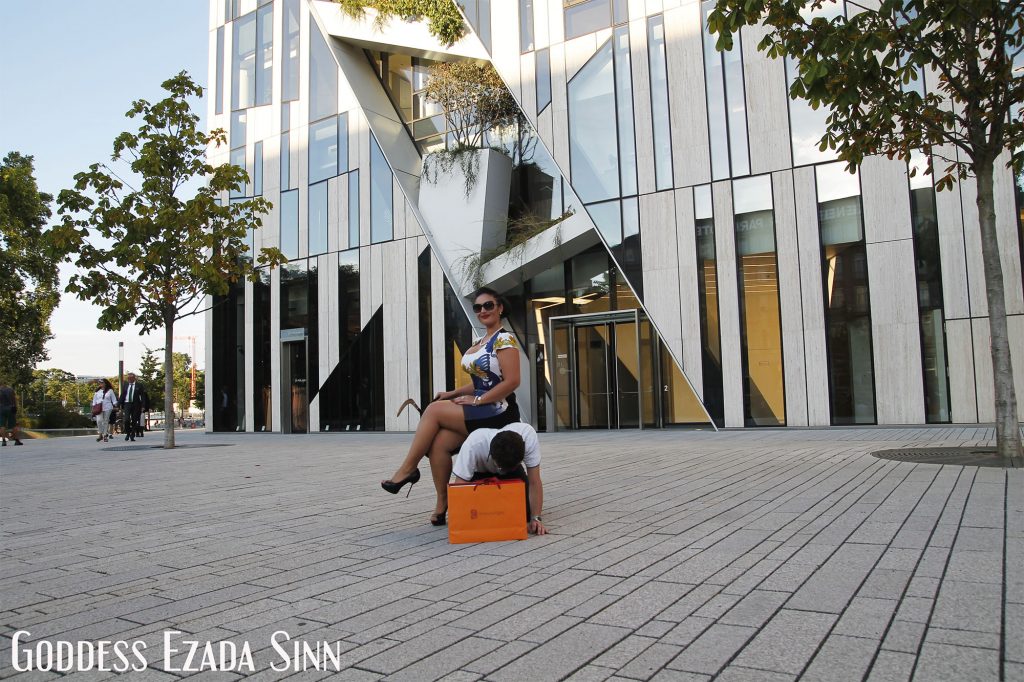 One hour later about, despite feeling the hurt on my knees, I was astonished by the come back of my Owner with her hubby carrying some big parcels. His gait, his pace, my last doubts flew away immediately. She is so great, so haughty, so worthy, so Divine. Waiting for my Mistress, somewhere, for days and nights, the deliverance is so unheard when She is back that we forget the long hours of waiting before the humiliating glances of passers-by.
I kissed her feet with so much love that my Mistress had to push me away:
"Enough slave, i want to sit now"
I move on all fours, my Mistress take her seat. She wanted to have a little rest after walking in the alleys of the shop. A few minutes passed and She wanted to try her new Hugo Boss shoes. While serving Her as a siege, I took an immense precaution to remove Her shoes without any movement. My Mistress wanting to use a fixed, motionless and comfortable seat. Several people stopped to immortalize the scene. To laugh with their friends or just to reproduce the same thing very soon.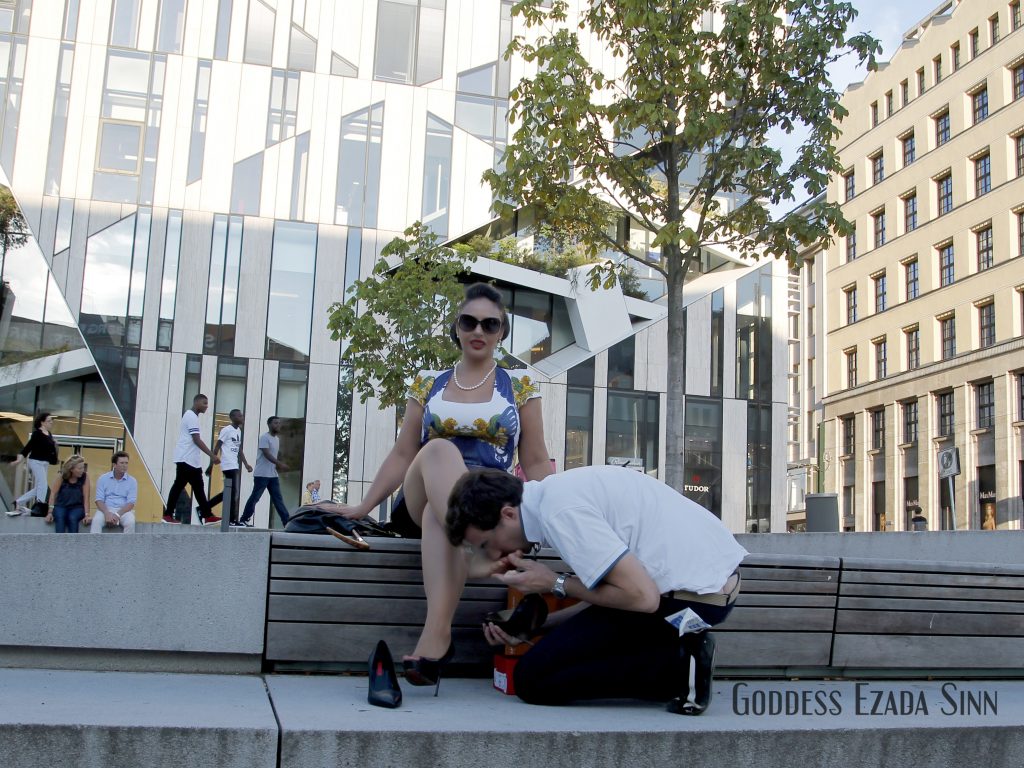 Once Her new shoes were at her feet, She got up and we went for a walk in the pedestrian streets and then along the Rhine.
On the banks of the river, with a beautiful view of the Rhine Tower, My Mistress stopped on a bench to contemplate the view:
"Footstool, purcelus"
I executed myself and on all fours received the legs of my Mistress on the back. I must confess that it is a mentally intense position. You really feel your inferiority by being under the soles of your Mistress, but at the same time, you breathe the proximity of your highness and your utility for Her well-being. I could spend hours in this position privately, Madame working on Her computer or watching a movie to relax, but in public, it's different. I think that my Mistress wanted to make me understand in the noblest of ways my place in society: at her feet, under her feet!
Under the eyes of the amused walkers, laughing, taking pictures under the joyous glance of Mistress Ezada, we stayed here about ten minutes.

I thought that my day, in terms of emotions and sensations, was over but my Mistress always knows how to surprise me when I least suspect it. A quality that makes her once again irresistible and makes me melt with love for Her. We walked to the busiest streets of the city with a number of pubs and bars where people gather for a drink outside in this warm summer atmosphere. I hardly recovered from my previous emotions when I came out of a staircase and saw his right hand making the signal:
'Heel position'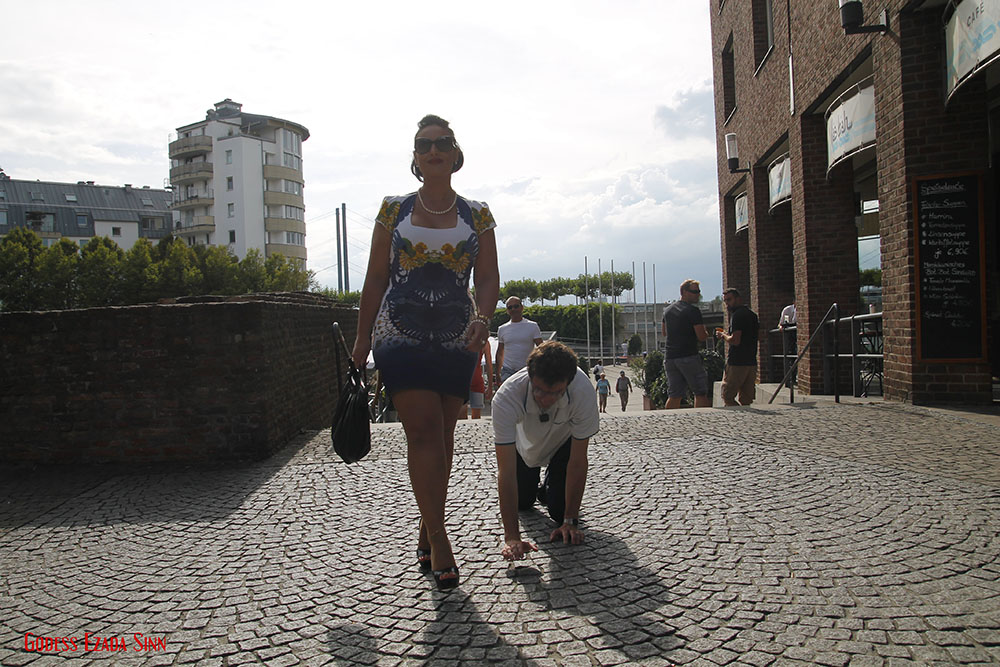 I do not know how, or why, but without reflection, without the slightest hesitation, I began to walk on all fours, a step behind her. I concentrated on following the rhythm of her steps so as to be completely synchronous with her. I think she raised her head like a queen parading down the street. We approached a noisy place where many feet were close to us. I was subdued by Her feet, nothing around me could distract me, passers-by, the laughter of the people sitting at the bar, the laughing young women taking pictures, commenting on this surreal scene for them but so natural for my Mistress and also for me.
I could see nothing else than the legs of my Goddess. I am unable to say how many streets we crossed, how far I performed as a dog. I felt no bread in my knees, no mental discomfort to be thus transformed into a simple animal according to her Proprietary. I could go on like that for hours. My Mistress has the ultimate gift of propelling you into a universe where the surrounding world does not matter, you are totally bewitched by Her greatness, Her power, that you do not reflect, your instinct follows the least of Her steps, Her Gestures. You do not need to feel a leash drive you forward, you follow Her shadow, you are aspired by Her Absolute power.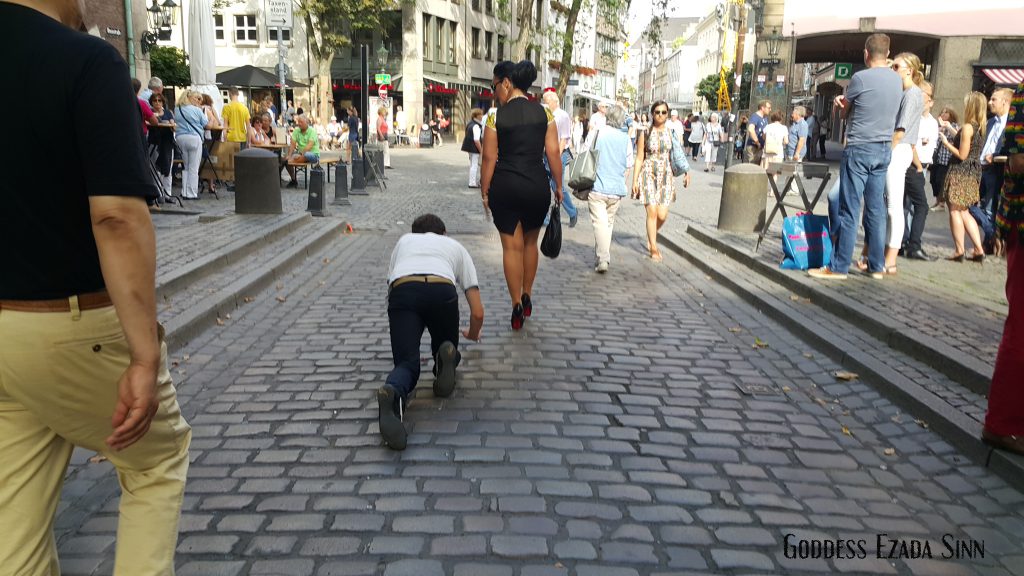 I think the people of Düsseldorf immediately realized that it was not a game, a bet, but my life as a slave. She possessed such an intense charisma, a beauty so fatal, a look so imposing, a power so divine that day (like all the other days besides) that there was no doubt: She leads the world, the men fall to their knees, breathless, they are hypnotized by this first Lady. She needs no leash, no word, no gesture to drag me along in Her wake.
I continued on all fours and I heard nothing more to such an extent that my Mistress was surprised when She had to repeat me several times:
"up, up…up"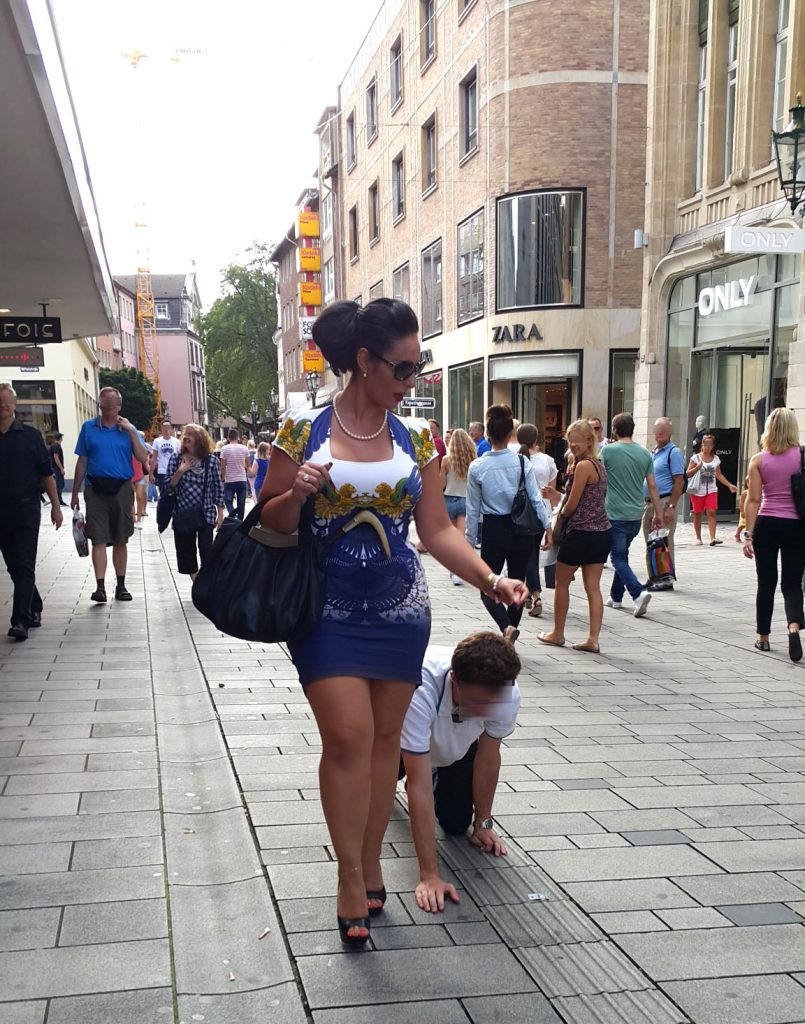 It was my turn to surprise Her. My lucidity, my envy, my devotion, my love were such that I did not think to get up, nor even today, nor even one day. My place was the same whether I was in the midst of the crowd or in his room, his dungeon: at his feet.

I was glad to see that I could not refuse my Mistress anything, that her gestures and sighs were marvelous orders to follow.
As for Mistress Ezada, I am sure that the city of Düsseldorf remembers Her, She left an indelible trace of Her grace, Her aura and I maintain the bet that all the men of the city will sooner or later kneel down thinking of my Goddess, our Goddess.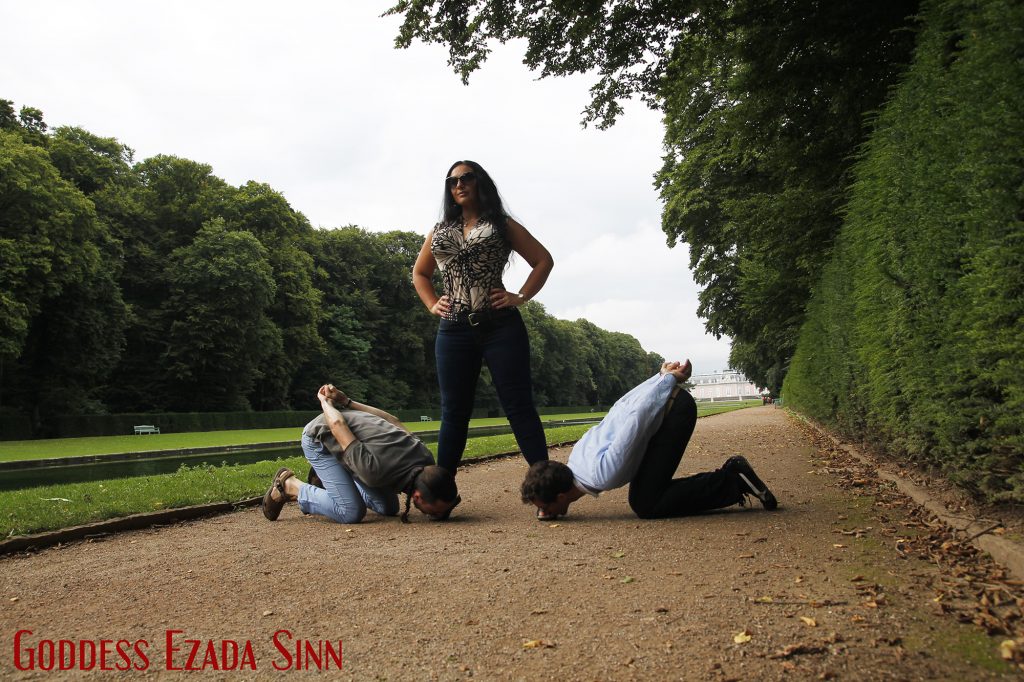 We ended the day with a nice outdoor dinner, at three. My emotions of the weekend were just beginning. …
I must admit that since this day i dream that my Mistress descends the Champs-Elysees, in Paris. I will not hold Her hand like in my teenage dreams, but I will follow Her back on all fours.
purcelus, absolute property of Goddess Ezada Sinn